FSC® Certified Paper and Wood Products FSC certification allows companies and consumers interested in environmentally and socially responsible materials to be confident in their purchasing decisions. Buying products that carry the FSC check mark tree label is your guarantee a product comes from a forest evaluated against FSC's rigorous environmental and social standards. The FSC is the only forest certification system supported by the World Wildlife Fund Canada, Sierra Club of Canada, and the National Aboriginal Forestry Association. All products that are FSC Certified contain wood or wood fibre from forests certified to the FSC's standards or material that can contain up to 100% post-consumer reclaimed/recycled material.

Emerson Clarke has been certified since 2007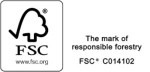 Printing and Graphics Industries Association of Alberta The PGIA is a not-for-profit business organization that promotes our industry in the province. Our membership is diverse—organization size, number of employees, and scope of operation, for example—yet we share common challenges and work together within the law to promote stability in the industry.